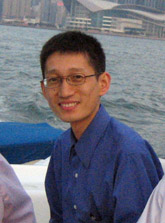 Prof. Bo Zheng
Associate Professor

Room 165 Science Center


(852) 3943 6261



Education

1997
B.Sc.
Peking University
2002
Ph.D.
Duke University
Position

Since 2011

Associate Professor,

The Chinese University of Hong Kong

2005-2011

Assistant Professor,

The Chinese University of Hong Kong

2003-2005

Postdoc,

University of Chicago
Research Interests
Our research interests are primarily in bioanalytical chemistry using microfluidics. Currently our research focuses on: (1) structural and functional analysis of biological molecules; (2) preparation and kinetic studies of soft materials, such as polymers, gels and biomacromolecules. We are developing new techniques utilizing microreactors and microchannels to achieve our goals.
Representative Publications
Z. Han, X. Tang,

B. Zheng


"A PDMS Viscometer for Microliter Newtonian Fluid" 
J. Micromech. Microeng., 2007, 17, 1828
X. Zhou, L. Lau, W. W. L. Lam, S. W. N. Au,

B. Zheng


"Nanoliter Dispensing Method by Degassed Poly(dimethylsiloxane) Microchannels and Its Application in Protein Crystallization" 
Anal. Chem., 2007, 79, 4924

B. Zheng

, and R.F. Ismagilov 
"A Microfluidic Approach for Screening Submicroliter Volumes against Multiple Reagents by Using Preformed Arrays of Nanoliter Plugs in a Three-Phase Liquid/Liquid/Gas Flow" 
Angew. Chem. Int. Edit., 2005, 44, 2520-2523.

B. Zheng

, J.D. Tice, L.S. Roach and R.F. Ismagilov 
"A Droplet-Based, Composite PDMS/Glass Capillary Microfluidic System for Evaluating Protein Crystallization Conditions by Microbatch and Vapor-Diffusion Methods with On-Chip X-Ray Diffraction" 
Angew. Chem. Int. Edit., 2004, 43, 2508-2511.

B. Zheng

, L.S. Roach and R.F. Ismagilov 
"Screening Protein Crystallization Conditions on a Microfluidic Chip Using Nanoliter-Size Droplets" 
J. Am. Chem. Soc., 2003, 125, 11170-11171.

B. Zheng

, Y. Wu, P. Yang and J. Liu 
"Synthesis of Ultralong and Highly-Oriented Silicon Oxide Nanowires from Liquid Alloy" 
Adv. Mater., 2002, 14, 122-124.