16 August 2006
CUHK Department of Marketing
A Survey on Gambling Behaviours of Hong Kong People
¡§Will You Become a Gambler?¡¨

Gambling is not only an economic activity but also a part of daily life of modern people. Figures from the Hong Kong Jockey Club show that for the 2005 to 2006 season, the horse racing betting turnover amounts to 60 billion (HKD) while the amount for football betting is 31.2 billion. Betting turnover for the Mark Six equals to 6.3 billion. It is estimated that Hong Kong people spent over 12 billion on football betting during the 2006 World Cup.
The Department of Marketing at The Chinese University of Hong Kong conducted a comprehensive survey to investigate the gambling behaviours of Hong Kong people. 500 Hong Kong residents were interviewed by questionnaires from July 11 to 17. The research is conducted by Professor Sin Yat Ming , Professor Stella So and Dr. Kwok Wai Yee of the Department of Marketing at CUHK. The study aims to help the Hong Kong Government, relevant organizations and citizens to realize the potential problems of gambling and to identify solutions.
Major Research Findings
1. About 70% of Hong Kong people have engaged in various gambling activities.
2. There is a growing trend of more young people participating in gambling activities. About 54% of gamblers are under the age of 20.
3. About 7% of gamblers first engaged in gambling at or below the age of 12.
4. Gambling activities leading to the first engagement in gambling of Hong Kong people are, in order of priority, Mark Six (53.6%), casinos (18.3%) and horse racing (16.3%).
5. The most popular gambling activities are, in order of priority, Mark Six (78.2%), horse racing (27.8%), football betting (27.8%), casinos (9.7%).
6. About 20% of Hong Kong people involved in the football betting during the 2006 World Cup. 40% among them engaged in football betting for the first time. 15.7% bet $2,000 or above while 4.2% bet $10,000 or above.
7. Who are gamblers?
Demographic: male, married, middle class, retired, house wife.
Personality: believe fate can be controlled, materialistic, not influenced by peers.
Influence from family members/ peer group: family members/ peer group are gamblers.
View on gambling: believe gambling can make quick money, a way to socialize with friends, entertaining and relaxing activities.
8. Gamblers can be classified into three categories: (1) enjoy life conscious (12.1%), (2) social life conscious (75.6%), (3) material and money conscious (12.4%).
9. Among the student respondents, around 30% are gamblers. Of the gamblers, 42% are primary / secondary students. Mark six is the first gambling activity they get involved. 40% of the student gamblers (n = 33) engaged in this year¡¦s World Cup Football betting. Their bets ranged from $500 to $50,000.
10. Gambling leads to the following impacts:
Addicted to gambling and helpless.
Betting amount is increasing.
Psychological damages.
Recommendations
1. Government
Promotion: to deliver anti-gambling messages.
Education: to further encourage schools to organize anti-gambling activities for students.
Reinforce anti-gambling laws: to enforce the law to stop youth (under 18) entering Jockey Club¡¦s off-course betting branches.
Strategic alliance: sponsor and support the anti-gambling organizations (e.g. Caritas A. G. Counseling Centre, Gamblers Recovery Centre).
2. Education
To deliver anti-gambling and correct financial management messages.
Care and concern: teachers and school social workers should pay more attention to students to prevent them from engaging in gambling activity.
3. Family
Parents / Senior members in the family should well behave and stay away from gambling activities to act as role model.
Pay attention to the friends of their children.
Family members should try to help each others to quit gambling.
4. Individual
Should be aware of the destructive impact of gambling on oneself and family.
For youth, should carefully select friends and stay away from the gamblers.
For retired and housewives, should broaden their social circles, participate various activities, can help them to stay away from gambling temptation.
Have a positive value of life: Money is not everything.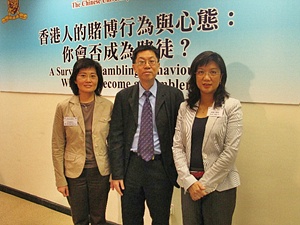 From left:
Dr. Susanna Kwok, Instructor, Department of Marketing, CUHK
Professor Sin Yat Ming, Professor, Department of Marketing, CUHK
Professor Stella So, Associate Professor, Department of Marketing, CUHK