Ancient Barkcloth Re-created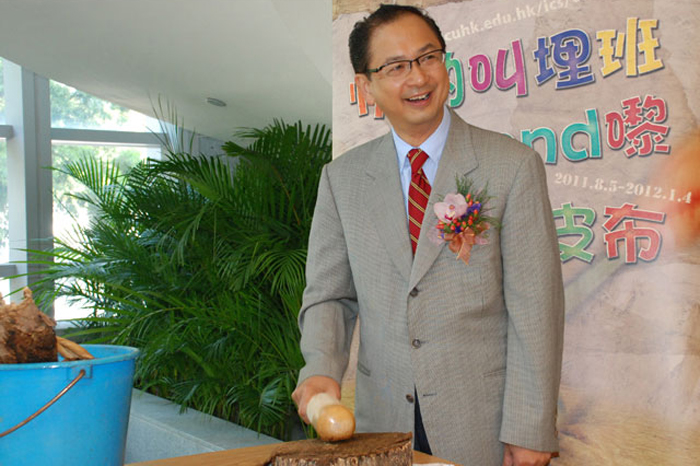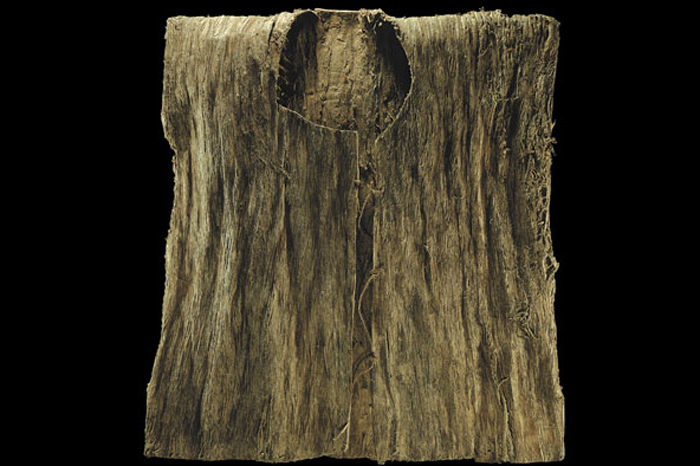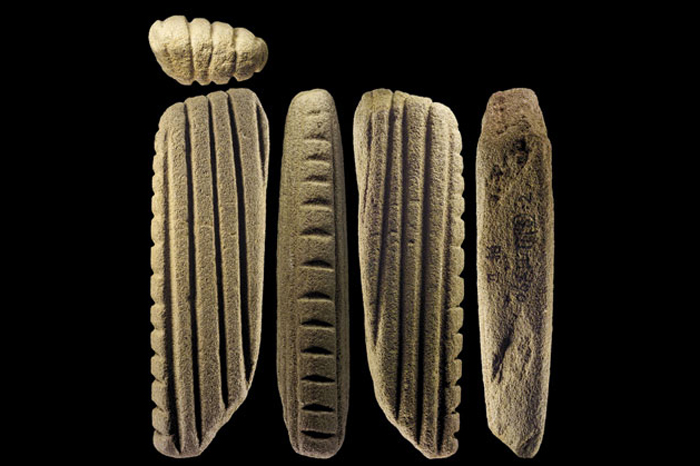 August 2011
A low thudding sound, produced by the hammering of tree bark by a replica of an ancient stone beater, echoed throughout the Art Museum. After hours of the same, the tiny piece of bark became thin and flat. This is the process of making barkcloth over 6,000 years ago and it has been revived in a current exhibition at the museum.
Barkcloth clothing is an important branch of the human clothing system. Academics recently pointed out that the world's barkcloth culture might have originated in South China. Before weaving technology was invented, barkcloth garments were prevalent in South China. The world's oldest barkcloth clothes making tool—the stone beater, which dated back to 6,600 years ago, was unearthed in the Xiantouling site of Shenzhen. Barkcloth technology was spread to the Philippines, Taiwan and even Central America – via the sea route which has a longer history than the Silk Road. 
Prof. Tang Chung, director of the CUHK Centre for Chinese Archaeology and Art, said that the CUHK archeological teams discovered stone beaters at the remains of a house of over 6,000 years in Tai Wan on Lamma Island. Funded by the Research Grants Council, CUHK worked with scholars from Taiwan and Vietnam to conduct a series of research on barkcloth making tools in China and East Asia between 2000 and 2002.
Archeologists explain that the stone beaters tell us stories about cloth-making over 6,000 years ago. The ridges and grooves of the beaters were designed to help to loosen and soften the fibre of bark that had been stripped off and soaked in water during beating. The barkcloth is then left to dry. Larger pieces can be made into a garment while smaller pieces can be sewn together to form a larger piece using bone prickers. According to Professor Tang, it took considerable time and intensive labour to make a piece of barkcloth. He estimated that in some tribes, people only had three pieces of garments at most throughout his or her life.
Co-organized by the CUHK Centre for Chinese Archaeology and Art, Guangdong Provincial Institute of Cultural Relics and Archaeology, and Art Exhibitions China, the 'Origins of Clothes—Barkcloth' exhibition is the second exhibition of the 'Forget Me Not—The Historical Roots of Hong Kong' series. Held at the East Wing of the CUHK Art Museum until 4 January 2012, it showcases over 50 valuable pieces of barkcloth stone beaters from Hong Kong, mainland China and Taiwan as well as ethnological materials. It is the world's first search for the origins of barkcloth clothes from an archaeological perspective.