Dear CUHK Alumni,

I would like to give you an update on my last appeal inviting you all to join me in donating $6,000 in full or partially to our alma mater to support the newly launched I•CARE Programme. I am thrilled to share with you the following developments.

At the Chinese New Year Media Reception on 30 January, Professor Joseph Sung, Vice-Chancellor and President of CUHK, together with all Pro-Vice-Chancellors and Faculty Deans joined hands to each donate a red packet containing $1,000 to the I• CARE Programme. They expressed their hopes that 10,000 alumni will follow their example and each donate $1,000 too, which will synergize our efforts and inject another $10 million into the I•CARE Programme.

I would also like to share with you another exciting development. Chow Tai Fook Charity Foundation (CTF Foundation) has pledged to donate $10 million to match our donations to support the I•CARE Programme. This is particularly significant because when we take into consideration the recent announcement by the Financial Secretary of the HKSAR Government that the sixth round of Matching Grant Scheme* will start in July this year, every $1 donated by you will actually be worth $3 ($1 from CTF Foundation and $1 from HKSAR Government matching fund).

On this joyous Valentine's Day, I sincerely appeal to you all once again to join me in showing our appreciation to our alma mater by donating to the I•CARE Programme. This is a very worthwhile cause which aims to promote students' holistic development through social and civic engagements in Hong Kong, Mainland China and overseas.

To make your donation, please click here.

Happy Valentine's Day!

Warmest regards,

Yau Shing-tung
(1969/Chung Chi/Mathematics)
*Details about the sixth round of Matching Grant Scheme are still subject to the final confirmation from the University Grants Committee.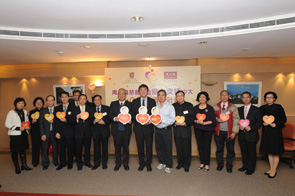 Chow Tai Fook Charity Foundation has made a generous pledge of HK$10 million on a dollar-for-dollar matching basis to inspire CUHK alumni to support the I.CARE Programme. Many caring alumni echo with the Foundation for this meaningful cause.
「I•CARE博群計劃」獲得周大福慈善基金的支持,允諾捐出港幣一千萬元,以一對一配對校友對「I•CARE博群計劃」的捐款,眾校友積極響應善舉。
親愛的中大校友:

自上次電郵呼籲所有中大校友善用香港特別行政區政府的「$6,000計劃」所收到的額外財富,貢獻母校,支持大學新設立的「I•CARE 博群計劃」,惠澤學弟妹。今天要向大家報告一些令人振奮的發展。

沈祖堯校長聯同各副校長及學院院長於1月30日舉行的傳媒新春茶敘中率先即場捐出一千元大利是支持「I•CARE博群計劃」,呼籲「中大人.愛中大.萬眾一千」,希望校友能響應,集腋成裘,為「I•CARE博群計劃」籌募一千萬元。

今天,我向大家報一個喜訊,周大福慈善基金認同中大「I•CARE博群計劃」並受校友「萬眾一千」計劃感動,慷慨允諾捐出港幣一千萬元,以一對一方式配對校友支持「I•CARE博群計劃」的捐款,加上今年度財政預算案中政府宣布了第六輪配對補助金計劃*預計將於今年7月開展,您的1元捐款將變成最多3元(周大福慈善基金配對1元、政府配對1元),意義重大。


適逢情人節,我深盼能與您攜手向母校表示一份感謝,請即回應「中大人.愛中大.萬眾一千」,捐款支持中大「I•CARE博群計劃」,以鼓勵學生積極參與社會及公民服務,促進學生全人發展。

請即登入此處支持中大「I•CARE博群計劃」。


謹祝 情人節快樂!


丘成桐
(1969/崇基/數學)


*有關政府第六輪配對補助金的詳情,尚待大學教育資助委員會的落實指引。