The Third Summer School on Translation History (2013)
| | |
| --- | --- |
| The RCT will hold the Third Summer School on Chinese Translation History on 1–5 July 2013 in Beijing, in collaboration with the National Research Centre for Foreign Language Education, Beijing Foreign Studies University. | |
Past Summer Schools on Chinese Translation History
| | |
| --- | --- |
| I. | The Second Summer School on Chinese Translation History (2011), co-organized with Department of Chinese Language and Literature, Fudan University, 27 June–2 July, 2011. |
| II. | The First Summer School on Chinese Translation History (2009), co-organized with Center for Translation Studies, Guangdong University of Foreign Studies, 21–25 June, 2009. |

The RCT held its first Summer School on Chinese Translation History on 21–25 June 2009 in Guangzhou, in collaboration with Guangdong University of Foreign Studies. The event was a tremendous success, attracting over 40 participants from China, Taiwan, Macau and Hong Kong. Held over a period of one week, the programme for the Summer School included intensive lectures on key topics delivered by prominent scholars in the translation discipline, workshops and thorough discussions amongst participants.

Here are what some participants have to say:



"... ...such rare opportunity for us to understand Chinese Translation History's unique attraction and value in greater depth. The lectures by the professors inspired us greatly, provided us with many ideas and motivated us to pursue our paths with confidence."




"Thank you RCT for your hard work in promoting Chinese Translation History and in nurturing young scholars in this field. I hope to repay your benevolence with the fruit of my rigorous research in the future."





"Thank you very much for organizing the Summer School. It has expanded my outlook and thinking, and has given me the opportunity to listen to so many interesting lectures by renowned scholars and to be able to interact directly with them. It has also allowed me to meet with many other like-minded young scholars. These experiences have helped lay a good foundation for my future research in Translation History."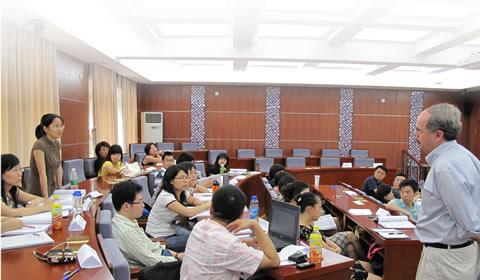 Upcoming: The Third Summer School on Translation History (2013) Application Details
Organizer
:
Research Centre for Translation (RCT),
Institute of Chinese Studies,
The Chinese University of Hong Kong
Co-organizer
:
National Research Centre for Foreign Language Education,
Beijing Foreign Studies University
Date
:
1–5 July 2013
Venue
:
Beijing Foreign Studies University
Learning mode
:
Speakers give lectures on research methodologies or topics relating to Translation, Literature and History during each morning session. Group discussions on Translation Studies are arranged in afternoon sessions. Students should familiarize themselves with the assigned learning materials before lectures.

Speakers
:
Theodore HUTERS (UCLA)
HUANG Ko-wu (Academia Sinica)
SHEN Guowei (Kansai University)
Kefei WANG (Beijing Foreign Studies University)
Lawrence Wang-chi WONG (The Chinese University of Hong Kong)

Language
:
Chinese (Putonghua)

Eligibility
:
Candidates for Master or Doctorial degrees relating to Chinese Translation Studies

Application Procedures
(CLOSED)

:
Complete the application form and return it together with an article (both published and unpublished articles are acceptable) on Chinese Translation History to translationhistory@cuhk.edu.hk. The application form can be downloaded here.
Fees
No course fee will be charged. Accommodation during the class period will be provided by the RCT. Students are required to cover the costs of their own transportation and food.
Deadline
:
30 April 2013
Contact:
:
Ms. Olivia Lui
Tel. no.
:
(852) 3943 7385
Fax no.
:
(852) 2603 5110
E-mail:
:
translationhistory@cuhk.edu.hk