The Artist Who Sculpts Mankind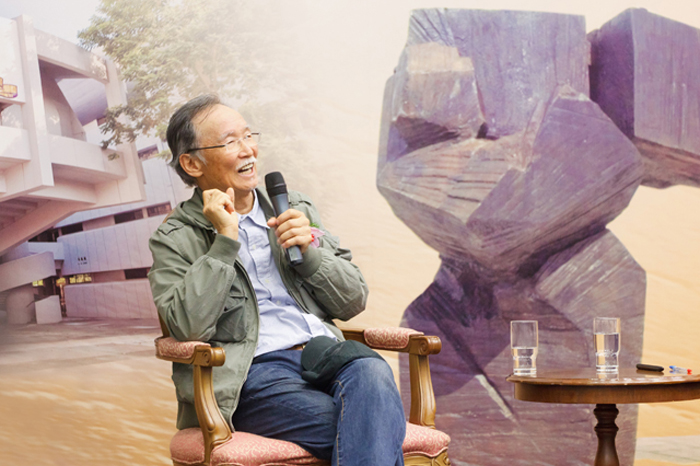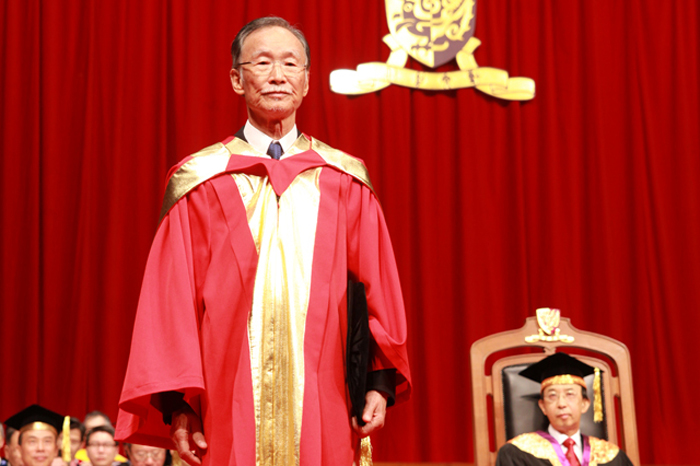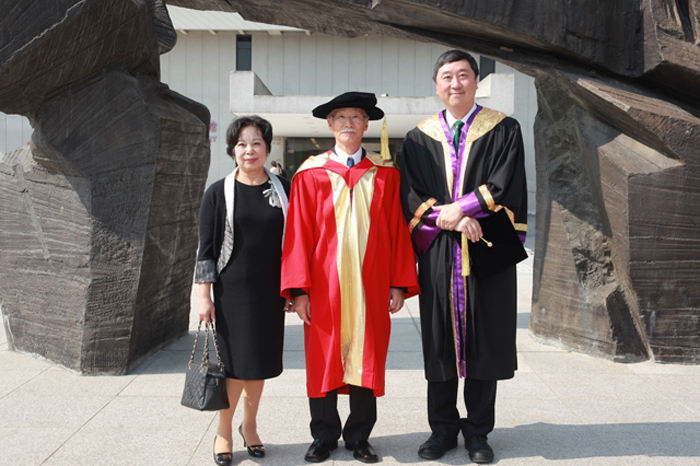 December 2011
Since its official unveiling in December 1987, the large sculpture Gate has dominated the piazza in front of the University Library for 24 years, standing as the focal point of the University Mall, the central axis of the campus. This sculpture, later re-named the Gate of Wisdom, is the creation of Ju Ming, the world-renowned sculptor.
On 14 December 2011, Mr. Ju Ming came to the Chinese University to give a talk on the topic of 'Art as Practice'. He spoke to an audience of over 500 about how his masterpiece at the Chinese University came into being: 'My intention, when I began working on this piece, was that it was meant to be the gate to success.… If you can walk from one side of it to the other side, then you will be assured of graduation.' This almost brought the house down and Mr. Ju's presentation thus began on a merry note.
Mr. Ju sought to explain to the audience his views on art, and the concepts that informed his creations. He emphasized the importance of practice, and likened the human being to a vessel. When a person was first born the vessel held nothing but the person's own self. However, as he began to learn, he also began to lose parts of himself until, at the end, his vessel became filled with nothing but other people's stuff, which would create an impediment to his own creativity. What Mr. Ju meant by practice was that one should try to disremember all the ideas, concepts and methods that one had learnt from others before, and then rediscover his own nature, his innate self, from which he may build up his own personal style.
'I have a way to help me forget what I learnt before, and that is carving away quickly when executing my work.' That means that one will carve before he thinks, so that his thinking will never be able to catch up with his carving, and the sculptor will thus enter a state of selflessness. It is only in this way that 'the outcome will be beyond the sculptor's own thinking.' Mr. Ju opined that only works sculpted in such a way could be natural and lively.
Mr. Ju further believed that, in order to formulate one's own style, one must know about his ancestors. 'You have to know your ancestors in order to know yourself, and then you may form your own style. The wisdom of our ancestors, built up over thousands of years and coming to us through a succession of generations, is an immense treasure.'
The Gate of Wisdom at the Chinese University is part of Mr. Ju's Tai Chi Series, which he no longer works on. Now he is concentrating on his Living World Series. He explained, '"Living World" is all-embracing, and everything can be put within its meaning. In that way, when I am working on the Living World Series, I am a liberated person.'
When comparing the visual differences between works in the two series, Mr. Ju drew the example of the caterpillar becoming the butterfly. 'The two are very different in outlook, but share the same life. It is just the process of metamorphosis.' He also introduced two of his most recent works, Living World Series—Imprisonment and Cube, to the audience at the talk.
When it came to the question and answer session, someone with a question introduced herself as a CUHK graduate. The ever-humorous Mr. Ju immediately responded by saying 'then we are alumni'. Alumnus he indeed is, as he was at CUHK to collect his honorary Doctor of Literature degree at the congregation that took place on 15 December.