The Success of Failure: Sylvia Chang shares her stories of defeat on the road to victory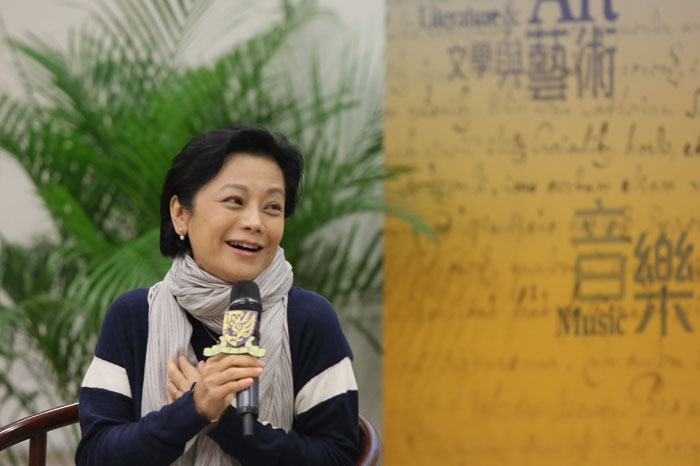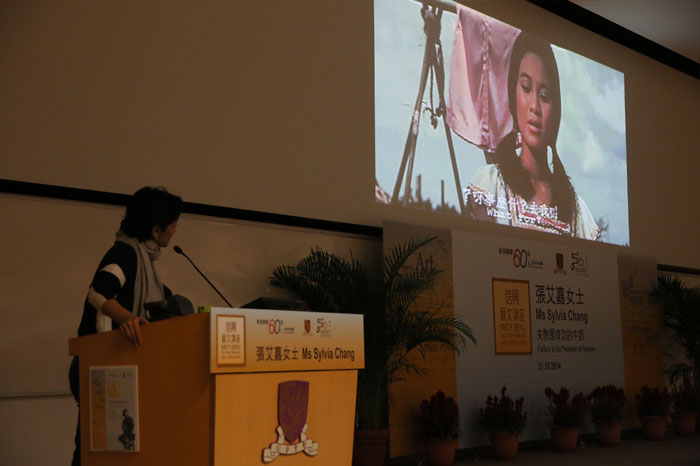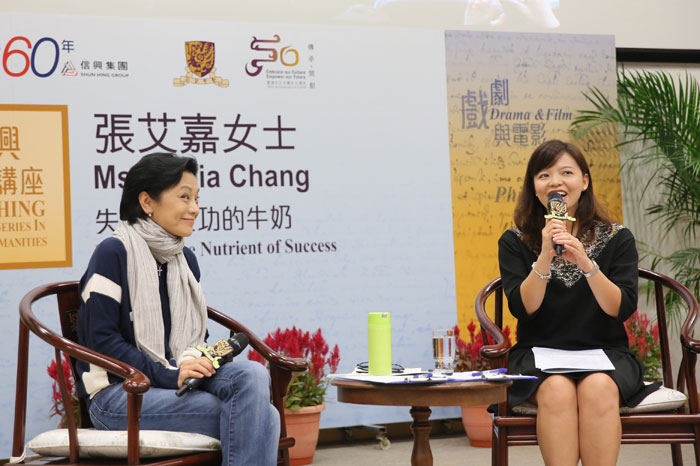 November 2014
There is nothing more instructive than listening to the stories of failure of celebrities. In a career that spans acting and singing, script-writing and directing, Sylvia Chang is a paragon of a movie-maker and a woman. Chang came to CUHK on 31 October to deliver a Shun Hing Lecture on Arts and Humanities entitled 'Failure is the Nutrient of Success'.
Chang started out in the early 1970s in the traditional female role of screaming and waiting for her hero to appear, which can be seen in the first clip she brought to the lecture. 'At that time Hong Kong cinema was dominated by kung fu films and an actress's role was not much. We waited for a whole day only to be told by the director to sit between two men, one being the male star, and go berserk when one starting to hit the other.'
After her first three films, the investor said to her one day, 'You do look OK in person, but strangely less so on film.' Chang used to be a young woman with some measure of self-confidence. Upon hearing that she was brought down from heaven. 'But I treated it like a glass of milk. I swallowed it,' Chang said.
She went into the dubbing studio not to learn dubbing but about how people acted. She discovered that what the actors were made to say in films was not what ordinary people said in real life. She then developed her own method of saying her lines with the most apposite words from her heart. 'When the next opportunity presented itself, I was ready,' Chang recalled with some satisfaction.
Her next opportunities were famous films such as Victory (1975) and Posterity and Perplexities (1976) in which she cried authentic tears. 'Most actors don't cry for real for fear of messing up their noses and lips. My lips are thick already. Real tears would make them even thicker.'
Chang's next challenge was not writing her marriage vows but writing for the screen. She returned to Taiwan in the early 1980s and became part of Taiwan's New Wave Cinema, unwittingly her second failure.
She showed a clip from That Day, on the Beach (1983), a classic by the late Edward Yang that preceded the recent blockbuster Gone Girl by three decades in its depiction of the alienation and violence of modern couples. Her avant-gardism was, however, treated by distributors with sarcasm and she was branded as hopelessly artsy without regard for the audience or the box office. Chang was distraught and decided to quit.
Chang said, 'After cooling off a little, I began writing again. This time it's the screenplay for Passion (1986). I gave it all. Since then, success or failure did not mean anything to me anymore.'
The third clip she showed at the lecture was from her new film Calling All Angels. Her smugly childlike smile betrayed her fondness for this latest baby.
From Slaughter in San Francisco (1974) to Calling All Angels (2014), the audience have been witness to how Sylvia Chang has developed in terms of film language, tempo, composition and mise-en-scene. Film is a storytelling art through audio-visual means. Sylvia Chang at the Shun Hing Lecture told her story successfully through her past failures.