World Cup Fever at the University Mall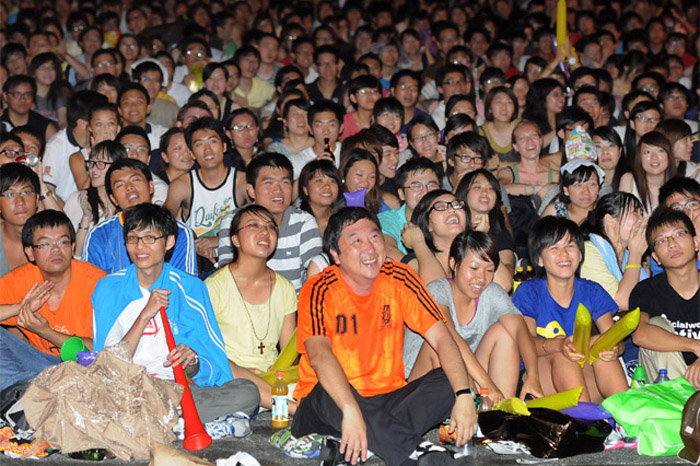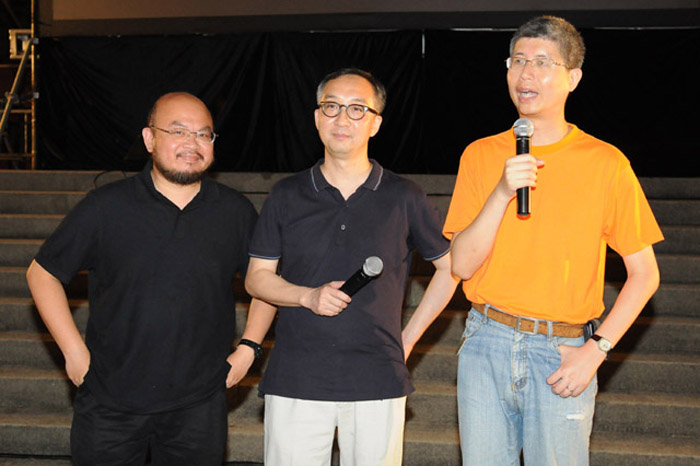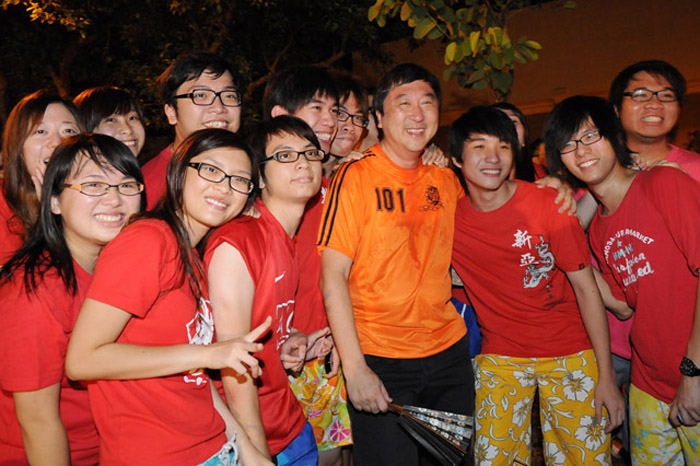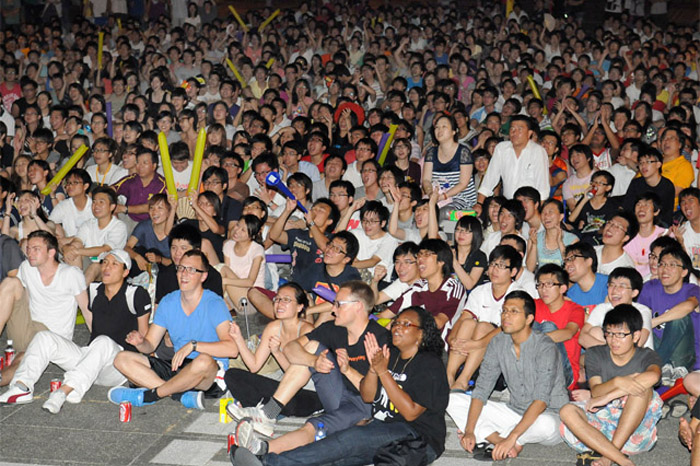 July 2010
Anyone paying a visit to the CUHK campus in the wee hours of 12 July would never have believed it was a university campus on summer break. A crowd had assembled at the University Mall for a cause of a different kind—to watch live broadcast of the World Cup final on a huge projector screen.
Even harder to believe was seeing among the audience the new Vice-Chancellor Professor Joseph Sung sporting a number 101 orange football shirt - obviously a supporter of the Dutch team until you see the letters 'CUHK' on the shirt. In fact this unprecedented activity was Professor Sung's idea. He said, 'I hope that everyone at the University can have fun together and enjoy the game.' And they did indeed. Over 800 teachers, students and alumni of the University gathered at the University Mall to watch the match between Spain and the Netherlands, sharing snacks and non-alcoholic beverages.
There was even live commentary, thanks to Prof. Ma Ngok and Mr. Ivan Choy Chi-keung of the Department of Government and Public Administration, and Prof. Lui Tai-lok from the Department of Sociology of the University of Hong Kong, who put politics and society aside for sports. Also among the audience were Prof. Michael Hui, Pro-Vice-Chancellor; Mr. Jacob Leung, University Secretary; Mr Eric Ng, University Registrar; Prof. Hsiung Ping-chen, Dean of Arts; Prof. Fok Tai-fai, Dean of Medicine; Prof. Paul Lee, Dean of Social Science and Prof. Chan Chi-fai, Head of Shaw College.
The atmosphere was sizzling, despite a drizzle at the start which clearly left no one's moods dampened. Some members of the audience brought their own seats, some came with props including vuvuzelas, some painted their faces with flag colours. Every time the action heated up in Johannesburg, so would the cheering and trumpeting at CUHK. A lucky draw was held during half-time, with the prize being a football signed by none other than the Vice-Chancellor himself.
In the end, Spain won as predicted by octopus Paul. If the Vice-Chancellor was disappointed, he did not show it, because he still popped the bottle of bubbly he had reserved for a Dutch victory. As an aside to the events of the night, a member of the audience fell and dislocated a shoulder after the game. Professor Sung, in his orange shirt, gave him first-aid and accompanied him as he waited for the ambulance. An apt reminder, perhaps, that the new Vice-Chancellor is a man of many hats.
Hope that we would see each other again, same time, same place, four years later.