13 May 2005
CUHK Institute of Chinese Medicine Awarded NIH Grant For Advanced Research on Anti-Cancer Herbs

The Institute of Chinese Medicine (ICM) of The Chinese University of Hong Kong (CUHK) has been awarded a sponsorship from the National Institutes of Health (NIH), USA for the establishment of a collaborative Research Center for Botanical Immuno-modulators with Memorial Sloan-Kettering Cancer Center (MSKCC) at New York to undergo advanced research on anticancer herbs.
This center will investigate botanicals with reported ability to modulate immune function and their relevance for the treatment of cancers. This is the first time that the NIH supports collaboration between US medical institute and non-local institute to establish research centre targeting at potentially immunomodulating herbs good for cancer patients.
The Memorial Sloan-Kettering Cancer Center is a highly reputable centre for cancer treatment and research. Supported by the Rockefeller Foundation and linked with the Columbia University and Cornell University, it has established an integrated clinic offering medium medical services as well as alternative medicine (including Chinese medicine and acupunctures) for cancer patients. Since 2000, it has started a few projects using Chinese Medicine as adjuvant therapy for cancer patients receiving standard therapy.
The collaborative botanical research center is an innovative proposal from Memorial Sloan-Kettering Cancer Center, which has invited the ICM to support. Research will be conducted to advance the scientific knowledge about the safety, effectiveness, and mechanisms of action of anticancer botanicals. The major area of interest will be on the immunomodulating influences, either directly supporting the patient consumers, indirectly through a support of the already developed resistance, or both. ICM is responsible to draw up the list of potentially anticancer herbs, acquire quality samples, further authenticate on the quality, maintain the consistency and later, extracting the active components. MSKCC will work on the biological effects of the selected herbs to see the biological standards of action on immunological modulation.
CUHK was the only institution from Hong Kong being awarded the first grant for partnership research by National Institutes of Health which the ICM being involved in a research consortium to systematically evaluate the quality, safety, efficacy and basic science mechanism of herbal medicines in treating cancer. The focus is to identify, systematically procure, extract, characterize and test with the new and advanced high-throughput screening methodologies of promising herbal medicines for cancer.
Professor Leung Ping Chung, Chairman of the Management Committee of the ICM said, "This new partnership is another recognition that Hong Kong is well-qualified to have high achievement in Chinese medicine research. We hope the synergism with the prestigious Memorial Sloan-Kettering Cancer Centre will foster the advancement of Chinese medicine research in Hong Kong and let the Hong Kong Government be more confident in Chinese medicine research."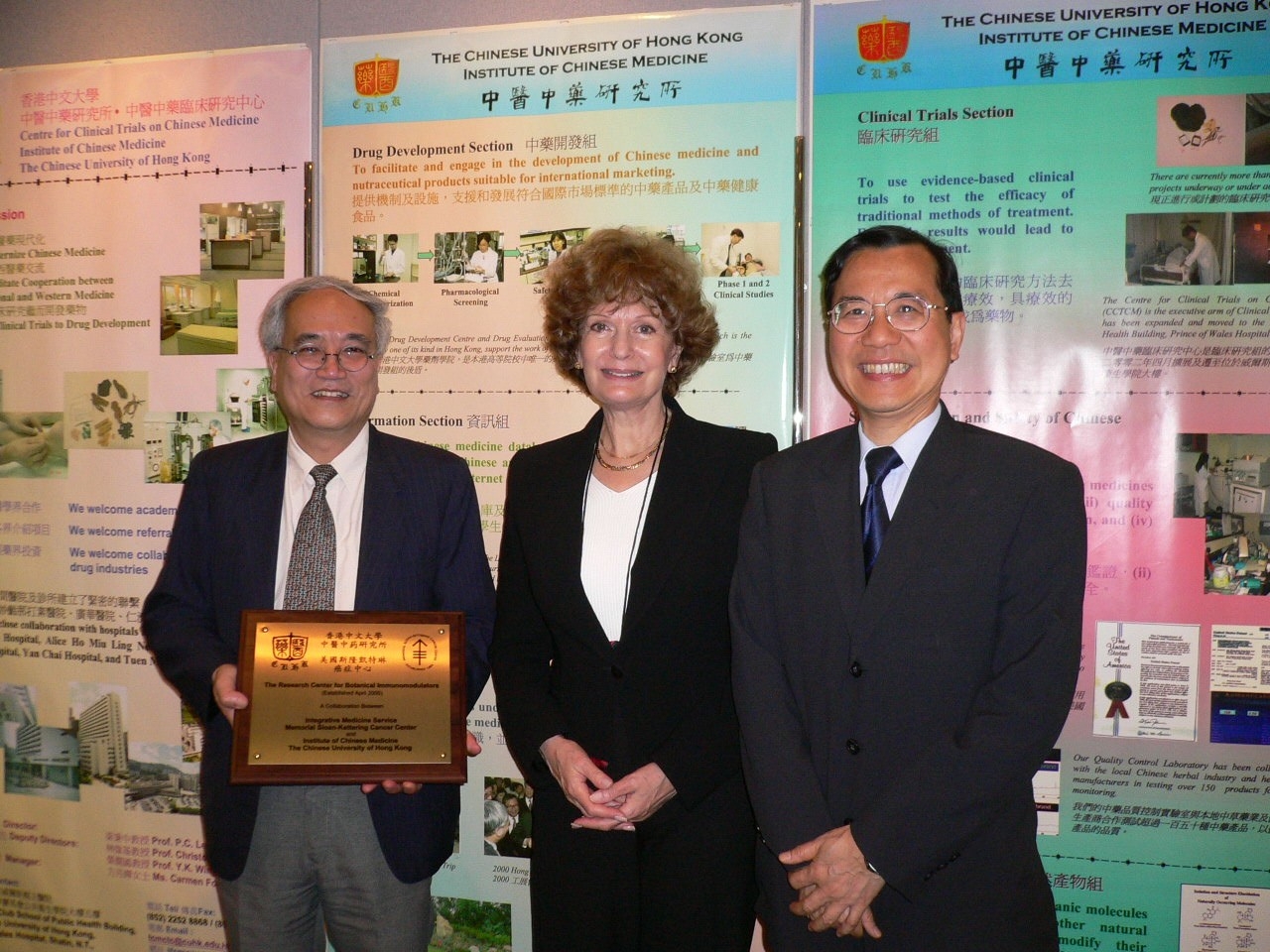 Dr. Barrie Cassileth (center), Chief, Integrative Medicine, Memorial Sloan-Kettering Cancer Center, discussed the collaboration on Research Center for Botanical Immuno-modulators with Professor Leung Ping Chung, Chairman of the Management Committee of the ICM (left) and Professor Fung Kwok Pui, Vice-Chairman (right).