Patrick Ming Kuen TANG (鄧銘權)
B.Sc., Ph.D. (CUHK)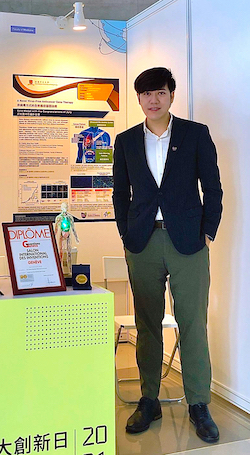 Dr. Patrick Tang completed his Bachelor of Science and Doctoral of Philosophy degrees in the Department of Biochemistry, The Chinese University of Hong Kong. He was a recipient of China Exchange Fellowship from Cancer Research UK and continued his postdoctoral training at University of Oxford. Then, he was appointed as a research manager responsible for business development and translational research of human mesenchymal stem cells in Hong Kong. Afterward, he rejoined CUHK and worked in Li Ka Shing Institute of Health Sciences and Department of Anatomical and Cellular Pathology since 2014, then got promoted to be research assistant professor in 2017.

Patrick is currently an assistant professor in the department since 2020. He would dissect the pathogenic roles and molecular mechanisms of innate immunity for promoting renal disease and cancer by bioinformatics approaches at single-cell resolution. He has received young investigator awards in ISN Frontiers Meeting 2018 (Tokyo) and East Meets West Symposium 2018 (Hong Kong), Faculty Innovation Award 2019 (CUHK Medicine), 7th Youth Dream Makers 2021 (Hong Kong) and Gold Medal with Congratulations of the Jury Medal in Inventions Geneva 2021 (Switzerland). He has published more than 60 research papers with more than 2000 citations on high impact research journals including Nature Reviews Nephrology, Nature Communications, Proceedings of the National Academy of Sciences, Molecular Cancer, Advanced Science, Cancer Immunology Research, Kidney International, Diabetes, Molecular Therapy, etc. Dr. Tang wishes can incubate new generation to translate his bench-top discovery from the inflammatory microenvironments into novel therapy for human diseases.
Research Interests:
Identification of Pathogenic and Anticancer factors from the Tumor Microenvironment
Development of Novel Immunotherapy for Cancer and Kidney Diseases
Research Grants
General Research Fund (2019, 2020, 2021)
- Regulatory Role and Mechanism of Immunosuppression of Neutrophil Anticancer Activities (HKD 1,151,040)
- Functional Role and Regulatory Mechanism of MNT Transition in Tumor Microenvironment (HKD 1,074,019)
- Elucidating the Pathogenic Role and Regulatory Mechanism of TAM-CAF Transition in NSCLC at Single-Cell Resolution (HKD 996,285)

Innovation and Technology Fund ITSP Tier 3 (2019, Co-I in 2016 and 2018)
- Development of a Novel Virus-free Anticancer Gene Therapy: USMB-shMincle (HKD 1,391,500)
Faculty Innovation Award, Scheme A, CUHK Medicine 2019 (HKD 2,500,000)
Health and Medical research Fund (Co-I in 2016, 2017, 2018, and 2019)
Direct Grant for Research CUHK (2018, 2019, 2020)

Awards
2021: Gold Medal with Congratulations of the Jury Medal in Inventions Geneva 2021 (Switzerland)
2021: 7th Youth Dream Makers 2021 (Hong Kong)
2019: Faculty Innovation Award (Scheme A), Faculty of Medicine, CUHK
2018: Frontiers Young Investigator Award, Winner, International Society of Nephrology (Tokyo)
2018: Young Investigator Award, First Runner-up, East Meets West Symposium, Hong Kong
2018: Poster Award, Hong Kong Immunology Forum
2018: Poster Award, SYSU-CUHK State Key Laboratory Retreat Conference
2009: Postdoctoral Research Fellowship (Oxford-China Exchange), Cancer Research UK
2006: Postgraduate Students Publication Award, Department of Biochemistry, CUHK

Press Releases
CUHK Students Win Awards in the 7th Hong Kong University Student Innovation and Entrepreneurship Competition (July 2021)
https://www.cpr.cuhk.edu.hk/en/press/cuhk-students-win-awards-in-the-7th-hong-kong-university-student-innovation-and-entrepreneurship-competition/
https://www.wenweipo.com/a/202107/06/AP60e4161de4b08d3407cbb907.html

Gold Medal with Congratulations of the Jury: A Novel Virus-Free Anticancer Gene Therapy (March 2021)
https://www.med.cuhk.edu.hk/research/feature-story-1
https://www.facebook.com/urbanlifehk.health/videos/147574050623179/

CUHK Uncovers How Immune Cells Turn Bad A New Hope for Kidney Patients (October 2020)
https://www.med.cuhk.edu.hk/press-releases/cuhk-uncovers-how-immune-cells-turn-bad-a-new-hope-for-kidney-patients
https://orientaldaily.on.cc/cnt/news/20201009/00176_060.html

CUHK Uncovers Novel Immune Escape Mechanism of Cancer Opening Up New Direction for Cancer Immunotherapy (April 2017)
https://www.med.cuhk.edu.hk/press-releases/cuhk-uncovers-novel-immune-escape-mechanism-of-cancer-opening-up-new-direction-for-cancer-immunotherapy
https://www.thestandard.com.hk/section-news/section/4/181655/Uni's-cancer-discovery-sparks-hopes-of-new-therapy
Journal Editorship
2018-present: Journal of Cellular and Molecular Medicine
2018-2020: Chung Chi College Staff Club Executive Committee
2018-present: Committee member of Hong Kong Society of Flow Cytometry
2018-present: Frontiers in Physiology [Research Topic: Immune Landscape of Kidney Pathology]
2021-present: Frontiers in Oncology [Research Topic: New Insights into Fibrotic Signaling in Cancer]

Patent
- Virus-free Gene Transfer Method for Tissue-Specific Targeting MINCLE (US Provisional 62/987,079)
- Naringenin and Asiatic Acid Combination Treatment of Diabetes (US Provisional 62/960,512)
- Neutrophil-Based Composition and Use thereof filed by Hong Kong

Research opportunity:
Postgraduate study and internship are welcome.

Selected Publications (ORCID: 0000-0002-3194-3736 ; total citations > 2900)
Single-cell RNA-sequencing Uncovers a Neuron-like Macrophage Subset Associated with Cancer Pain. Tang PC, Chung JY, Lian J, Chan MK, Chan AS, Xue VW, Cheng G, Li C, Huang XR, Ng CS, Lam EW, Zhang DM, Ho YP, To KF, Leung KT, Jiang X, Ho K, Lee TL, Lan HY, Tang PM (correspondence): Science Advances 2022 [In Press]. [Faculty Innovation Award 2019, CU Medicine] (IF: 14.972)

Smad3 Promotes Cancer-Associated Fibroblasts Generation via Macrophage-Myofibroblast Transition. Tang PC, Chung JY, Xue VW, Xiao J, Meng XM, Huang XR, Zhou S, Chan AS, Tsang AC, Cheng AS, Lee TL, Leung KT, Lam EW, To KF, Tang PM (co-correspondence), Lan HY. Advanced Science, 9: e2101235, 2022 [Frontispiece Image] [Young Investigator Award, Hong Kong Society for Immunology] (IF: 17.521)

AANG Prevents Smad3-dependent Diabetic Nephropathy by Restoring Pancreatic β-Cell Development in db/db Mice. Jeff Y.F. Chung, PM Tang (co-correspondence), Max K.K. Chan, L. Wang, X.R. Huang, K.F. To, Ronald C.W. Ma, H.Y Lan. Int. J. Biol. Sci. 2022 (IF: 10.750)

P2Y12 inhibitor, Clopidogrel inhibits renal fibrosis by blocking macrophage-to-myofibroblast transition. Chen J, Tang Y, Zhong Y, Wei B, Huang XR, Tang PM (co-correspondence), Xu A, Lan HY. Molecular Therapy 2022 Jul 5;S1525-0016(22)00420-8. (IF: 12.91)

A novel TCF21high pericyte subpopulation promotes colorectal cancer metastasis by remodeling perivascular matrix. Xiaobo Lia, Jinghua Panb, Tongzheng Liua, Wenqian Yina, Qun Miaoa, Zhan Zhaob, Yufeng Gao, Wei Zheng, Hang Li, Rong Deng, Dandan Huang, Shenghui Qiu, Yiran Zhang, Qi Qi, Lijuan Deng, Maohua Huang, Patrick Ming-Kuen Tang, Yihai Cao, Minfeng Chen, Wencai Ye, Dongmei Zhang. Gut 2022 [In Press] (IF: 31.840)

USMB-shMincle: a virus-free gene therapy for blocking M1/M2 polarization of tumor-associated macrophages. Xue VW, Chung JY, Tang PC, Chan AS, To TH, Chung JS, Mussal F, Lam EW, Li C, To KF, Leung KT, Lan HY, Tang PM (correspondence). Mol Ther Oncolytics, 23: 26-37, 2021 [Gold Medal with Congratulations of the Jury Medal in Inventions Geneva 2021]

Impacts of COVID-19 Pandemic on Psychological Well-Being of Older Chronic Kidney Disease Patients. Chan ASW, Ho JMC, Li JSF, Tam HL, Tang PMK (co-correspondence). Frontiers in Medicine, 8: 666973, 2021 [Faculty Publication Award 2021, PolyU]

AANG: A natural compound formula for overcoming multidrug resistance via synergistic rebalancing the TGF-beta/Smad signalling in hepatocellular carcinoma. Chung JY, Chan MK, Tang PC, Chan AS, Chung JS, Meng XM, To KF, Lan HY, Leung KT, Tang PM (correspondence). J Cell Mol Med, 25: 9805-9813, 2021 [Innovation Second-class Award of the 7th Hong Kong University Student Innovation and Entrepreneurship Competition]

Neural transcription factor Pou4f1 promotes renal fibrosis via macrophage-myofibroblast transition. Tang PM (co-correspondence), Zhang YY, Xiao J, Tang PC, Chung JY, Li J, Xue VW, Huang XR, Chong CC, Ng CF, Lee TL, To KF, Nikolic-Paterson DJ, Lan HY. Proc Natl Acad Sci U S A, 117: 20741-20752, 2020 [Frontiers Young Investigator Award, International Society of Nephrology (Tokyo)] (IF: 12.779)

Macrophages: versatile players in renal inflammation and fibrosis. Tang, PM, Nikolic-Paterson, DJ, Lan, HY. Nature Reviews Nephrology, 15:144-158. 2019. [The 5th most cited paper of Nature Reviews Nephrology 2021] (IF: 42.429)

DPP4/CD32b/NF-kappaB Circuit: A Novel Druggable Target for Inhibiting CRP-Driven Diabetic Nephropathy. Tang PM (co-correspondence), Zhang YY, Hung JS, Chung JY, Huang XR, To KF, Lan HY. Mol Ther, 29: 365-375, 2021 (IF: 12.91)

The Mincle/Syk/NF-kappaB Signaling Circuit Is Essential for Maintaining the Protumoral Activities of Tumor-Associated Macrophages. Li C, Xue VW, Wang QM, Lian GY, Huang XR, Lee TL, To KF, Tang PM (co-correspondence), Lan HY. Cancer Immunol Res, 8: 1004-1017, 2020 (IF: 12.02)

LRNA9884, a Novel Smad3-Dependent LncRNA, Promotes Diabetic Kidney Injury in db/db Mice Via Enhancing MCP-1-Dependent Renal Inflammation. Zhang, YY, Tang, PMK (co-first), Tang, PCT, Xiao, J, Huang, XR, Yu, C, Ma, RC, Lan, HY. Diabetes. 2019 Jul;68(7):1485-1498. [Cover Page, Diabetes 2019]

The proto-oncogene tyrosine protein kinase Src is essential for macrophage-myofibroblast transition during renal scarring. Tang, PM, Zhou, S, Li, CJ, Liao, J, Xiao, J, Wang, QM, Lian, GY, Li, J, Huang, XR, To, KF, Ng, CF, Chong, CC, Ma, RC, Lee, TL, Lan, HY. Kidney Int, 93: 173-187, 2018. (IF: 18.998)

Enhanced Cancer Immunotherapy with Smad3-Silenced NK-92 Cells.Wang, QM, Tang, PM (co-first), Lian, GY, Li, C, Li, J, Huang, XR, To, KF, Lan, HY. Cancer Immunol Res, 6: 965-977, 2018. (IF: 12.02)

Novel lncRNA Erbb4-IR Promotes Diabetic Kidney Injury in db/db Mice by Targeting miR-29b. Sun, SF, Tang, PMK (co-first), Feng, M, Xiao, J, Huang, XR, Li, P, Ma, RCW, Lan, HY. Diabetes, 67: 731-744, 2018 [Highlighted by Editorial Commentary].

Smad3 promotes cancer progression by inhibiting E4BP4-mediated NK cell development. Tang, PM, Zhou, S, Meng, XM, Wang, QM, Li, CJ, Lian, GY, Huang, XR, Tang, YJ, Guan, XY, Yan, BP, To, KF, Lan, HY: Nature communications, 8: 14677, 2017. (IF: 17.694)

Photodynamic therapy inhibits P-glycoprotein mediated multidrug resistance via JNK activation in human hepatocellular carcinoma using the photosensitizer pheophorbide a. Tang, PM, Zhang, DM, Xuan, NH, Tsui, SK, Waye, MM, Kong, SK, Fong, WP, Fung, KP. Mol Cancer, 8: 56, 2009. (IF: 41.444)

Pheophorbide a based photodynamic therapy induces apoptosis via mitochondrial-mediated pathway in human uterine carcinosarcoma. Tang, PM, Liu, XZ, Zhang, DM, Fong, WP, Fung, KP: Cancer Biol Ther, 8: 533-539, 2009. [Highlighted by Editorial Commentary]

Pheophorbide a, an active compound isolated from Scutellaria barbata, possesses photodynamic activities by inducing apoptosis in human hepatocellular carcinoma. Tang, PM, Chan, JY, Au, SW, Kong, SK, Tsui, SK, Waye, MM, Mak, TC, Fong, WP, Fung, KP. Cancer Biol Ther, 5: 1111-1116, 2006. [Publication Award 2006, Biochemistry CUHK]