18 April 2005
CUHK Sets up Centre for the Study of Humanistic Buddhism

¡@¡@The Department of Cultural and Religious Studies at the Chinese University has established a Centre for the Study of Humanistic Buddhism to promote Buddhist culture. Officiating at the inauguration ceremony on 18th April 2005 were the Venerable Master Hsing Yun, director of Fo Guang Shan Foundation for Buddhist Culture and Education, and Prof. Lawrence J. Lau, vice-chancellor of the University.
¡@¡@At the ceremony, the Venerable Master Hsing Yun thanked the Chinese University for setting up the centre and expressed the hope that the centre will play a leading role in research on humanistic Buddhism and in creating a 'pure land' in the human world. Prof. Lawrence J. Lau lauded Fo Guang Shan Foundation for its support of education and charity, and its promotion of Chinese culture. He believes that collaboration between CUHK and the foundation will further enhance the capacity for academic research at the University.
¡@¡@Over 150 Buddhist monks, scholars, Buddhist enthusiasts and other guests from mainland China, Hong Kong, and Taiwan attended the inauguration ceremony held in Cho Yiu Hall. Prof. Lai Pan-chiu, chairman of the Department of cultural and Religious Studies and director of the new centre, said the centre will focus on promoting Buddhist studies, training scholars, enhancing global academic exchange among scholars and promulgating Buddhist culture. He also thanked the Fo Guang Shan Foundation for its generous support of the centre's establishment.
¡@¡@The Department of Cultural and Religious Studies currently has a full-time professionship in Buddhist Studies. It also offers undergraduate and general education courses in Buddhism as well as master's (research and taught) and doctoral programmes in the area. The centre will invite eminent Buddhist scholars worldwide to the University as visiting professors to conduct research and to give lectures. The foci of its research will include Buddhism and Chinese society, Buddhism and contemporary ethical and cultural issues, and comparative studies and dialogues between Buddhism and other religions. With the aim of promulgating Buddhist culture and enhancing academic exchange, the centre will organize academic conferences and publish academic works on Buddhist studies such as periodicals and books in Chinese and other languages.
¡@¡@The Venerable Master Hsing Yun and the Venerable Tze Hui of the Fo Guang Shan Foundation, and the Venerable Man Lian, general secretary of the Hong Kong branch of the International Fo Guang Society, have joined the advisory committee of the centre as honorary advisor, chief advisor, and coordinator respectively. Advisory committee members are scholars from mainland China, France, the UK, and the US.
¡@¡@On the same evening, the Venerable Master Hsing Yun delivered a lecture on the 'Education of Self-Enlightenment in Zen Buddhism' to an audience of over 2,000 at Sir Run Run Shaw Hall.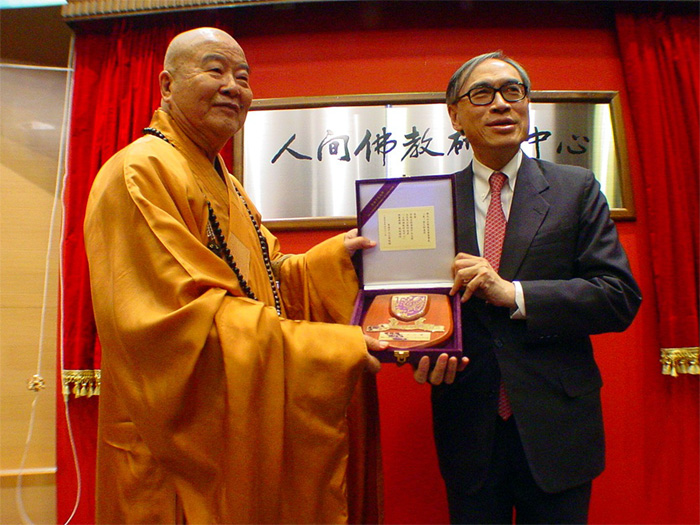 Venerable Master Hsing Yun (left) and Prof. Lawrence J. Lau (right)