The design is an extension of the 40th anniversary logo. Adopting as its theme that important element in the CUHK logo—the mythical Chinese bird feng (鳳), the current logo features a modern abstract interpretation of the form and grandeur of the mythical bird. The soaring feng stands for the numeral '4' while the dancing ribbon forms the numeral '5'. The feeling conveyed is one of immense joy and jubilation.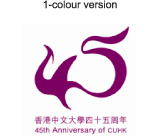 Whenever possible the logo should appear in 4-colours:
Purple 60 C 100M 20Y
Red 20C 100M 100Y
Yellow 15M 100Y
Black 100K
The logo may also appear as purple or black on a solid coloured or white background.

All units may use the 45th Anniversary logo in their official publications and printed materials, even if their activities have not been included as official celebration programme.
For printed materials, please use the EPS format (high resolution) of the logo. For usage on the Internet, please use either the JPEG or GIF formats (low resolution). Please do not use the JPEG or GIF formats for printed materials.