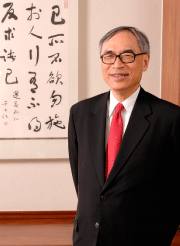 This year marks the 45th anniversary of The Chinese University of Hong Kong, a university known for its bilingual and multicultural tradition and its special mission "to combine tradition and modernity, and to bring together China and the West".
On 17 October 1963, following the amalgamation of three original colleges, the University was inaugurated with three founding faculties, 1,395 students, and some 100 staff members. Today, the University has a total of nine colleges, eight faculties, a student population of over 20,000 undergraduates and postgraduates, and a 6,000-strong full-time staff of teachers, researchers and administrators. Ours is a vibrant campus community devoted to the pursuit of excellence.
Indeed, the journey from a fledgling university to a well-recognized institution of higher learning has been filled with as many hurdles as rewards. Thanks to the foresight of our founding fathers, the capable leadership of all former vice-chancellors, the dedication of generations of teachers and students, and the unfailing support of our alumni and benefactors, the University has made spectacular progress as a research-oriented comprehensive university, with many wonderful achievements in teaching, research and community service.
More challenges and excitement lie ahead as we prepare for the eagerly awaited reversion to a four-year undergraduate curriculum and the formal opening of five new colleges, which will greatly enhance the quality of education, formal and non-formal, we offer to our students.
To celebrate four and a half decades of growth and achievements, the 45th Anniversary Celebration Organizing Committee has prepared an assortment of activities for the academic year 2008-09. I thank all those who help in the planning and organization of the celebrations. I also look forward to the active participation of all members of the University and the continued support from the wider community in the anniversary year.
Lawrence J. Lau