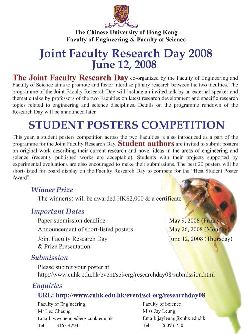 This year, a student posters competition across the two Faculties is also introduced as a part of the programme for the Joint Faculty Research Day. Student authors are invited to submit posters on original work describing their current research and novel ideas in the areas of engineering and science (recently published works are acceptable). Students with their projects supported by experimental evaluations are also encouraged to make their submissions. The short-listed posters for the two Faculties will be put up for board display on the Faculty Research Day to compete for the Best Student Poster Awards.
Prizes for the Student Posters Competition
The winners will be awarded HK$2,000 & a certificate.
Important Dates
Paper Submission Deadline: May 9, 2008 (Friday)
Announcement of Short-listed Posters: In view of the large no. of entries for the competition, the results of the shortlisting of the posters for entry to the competition will be announced on June 2, 2008.
Joint Faculty Research Day & Prize Presentation: June 12, 2008 (Thursday)

Submission
Please click here for details of submission