"Bullet Screen" for Virtual Teaching and Learning: An Innovation for Online Collaborative Video Analysis
| | |
| --- | --- |
| Principal supervisor: | Prof. TAN Jia |
| Co-supervisors: | Prof. CHUNG Peichi & Dr. Li Tiecheng |
| Project duration: | 22 months (from Sep 1, 2021 to June 30, 2023) |
<![if !vml]>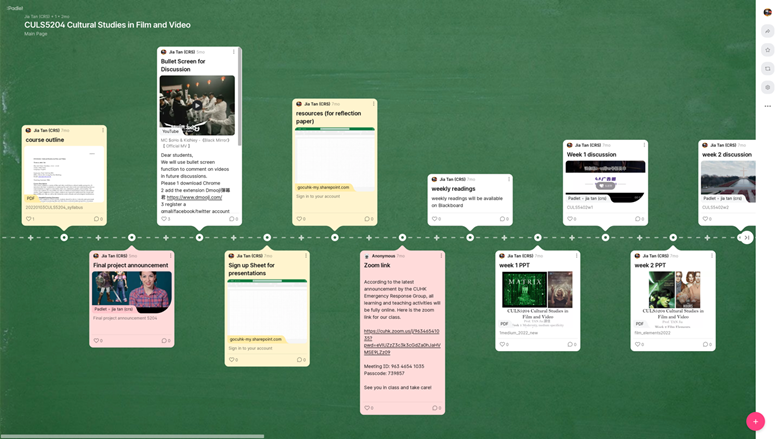 <![endif]>
Project objectives and project plan
The goal of this project is to develop and implement an online tool for video analysis as a virtual teaching and learning activity using the innovative function of "bullet screen". Bullet screen, or danmu, is a popular function in Asian video sharing websites where users can submit, view, and add textual commentaries flying in and out of screen like bullets while watching the videos online. The bullet screen as a learning tool enables students to watch the video at one's own pace, pause anytime, and make comments in a virtual setting. Furthermore, it is designed to optimize collaborative online learning with video by encouraging interactions among students and between students and teacher while watching the videos as well as during face-to-face teaching by facilitate in-depth discussions of what was watched.
On-going progress
This project consists of three stages to enhance student learning through online collaborative video analysis teaching and learning activities. Stage 1: Planning (Sep 1 2021- June 30 2022); Stage 2 : Design and Test (July 1 2022-March 2023) and Stage 3: Implementation and Dissemination (March 2023 -June 2023). The team has completed Stage 1, the planning stage successfully. We have communicated with course teachers and designed teaching tasks with bullet screen function. Using tools on existing commercial video sites, we have tested video analysis with bullet screen in courses CURE2040 Television Studies and CULS5204 Cultural Studies in Film and Video. In both courses, students used Dmooji, a Chrome extension on YouTube to do video analysis. We are now in Stage 2, the design and test stage. We are now in the progress of exploring the details of the tool (e.g. platform, development, timeline).
Expected contribution
The proposed project engages three themes respectively. First, it is a project of innovation and design as it develops bullet screen online tool for virtual teaching and learning. The bullet screen tool enables development of professional and general skills in video analysis. Watching and commenting at each student's pace provides opportunities for conducting detailed textual analysis on both the content and the aesthetic of the video. Overall, the bullet screen learning tool can enrich the overall educational experience of virtual learning, encourage teacher-student and peer interactions, and provide additional support resources for effective learning. The innovative and creative approach of bullet screen learning is also a kind of new strategy in pursuit of longer-term visions on VTL.
<![if !vml]>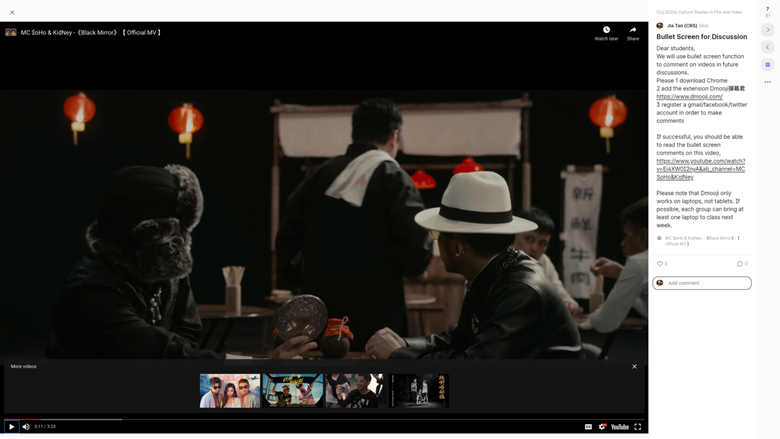 <![endif]>