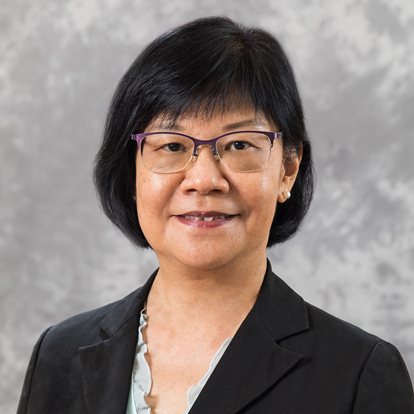 Professor Sham Mai-har
Pro-Vice-Chancellor / Vice-President (Research)
Choh-Ming Li Professor of Biomedical Sciences
BSc, MPhil (CUHK), PhD (Cantab)
Biography
Professor Mai Har Sham is a Pro-Vice-Chancellor of The Chinese University of Hong Kong (CUHK) and Choh-Ming Li Professor of Biomedical Sciences. Professor Sham obtained her BSc and MPhil degrees in Biology at CUHK. She was awarded a Croucher Foundation Scholarship and pursued her PhD in Biochemistry in the University of Cambridge. She received her postdoctoral training in Developmental Genetics in the National Institute for Medical Research in London, U.K. Professor Sham joined the University of Hong Kong as a lecturer and progressed to full professor. She headed the Department of Biochemistry, where she promoted not only excellent research, but also good practice in teaching. She was dedicated to medical and science curriculum development, she led the design and establishment of the first Bachelor of Biomedical Sciences curriculum in Hong Kong.
Professor Sham has extensive experience in research management and leadership. In her previous roles as Assistant Dean (Research) and Associate Vice-President (Research) in the University of Hong Kong, she contributed to research grant management, research assessment exercises, strategic development of research and collaborations with international and mainland China institutions. She facilitated the development of research postgraduate education and joint PhD supervision programmes with partner institutions. Professor Sham is a member of the World Conference on Research Integrity Foundation. Working together with the international consortium, she promotes responsible conduct of research and good science in universities and research institutions.
As a developmental geneticist, Professor Sham leads a research team focusing on the molecular mechanisms of mammalian development and human congenital disorders. Her research programmes cover areas of gene regulation and molecular signaling, craniofacial and hearing disorders, genetic bases and mutant mouse models of rare human diseases, stem cells and tissue regeneration. She served as the Director of the Centre for Reproduction Development and Growth in the Li Ka Shing Faculty of Medicine, the University of Hong Kong. She is currently the President of the Hong Kong Society of Developmental Biology. She serves as an Editorial Committee Member for Annual Review on Genomics and Human Genetics.