Centre for Plant and Agricultural Biotechnology
Areas of Excellence
Centre for Plant and Agricultural Biotechnology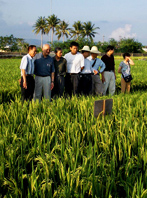 Total Funding Approved
HK$63.823M
(HK$38.823M (2000-2006) + HK$25M Sustained Funding (2007-2011))
Indicative Project Time-Frame
Coordinating Institution
The Chinese University of Hong Kong (Prof. Samuel Sun Sai-ming)
To address problems related to increasing populations, shrinking and low-yielding cultivation lands that China and the region face, this project aims at boosting crop production and enhancing quality through biotechnology. This is done by generating improved agricultural products, novel technological platforms and knowledge, and well-trained manpower in the field of biotechnology.
The main issues related to agricultural production include improving nutritional value, enhancing per acreage yield, and improving stress tolerance. This project focuses on issues most pertinent to the emerging needs of China and the world. The project team will also attempt to generate value-added products from crop plants.
The overall strategy of the project is to build a pipeline for biotechnology crop production, through identification of useful genes from elite germplasms; transfer those genes into designated crops, e.g., rice to produce new lines with improved agronomic performance; conduct field trials and safety assessment; and to deliver a set of carefully designed and assessed parental lines to traditional breeders.