State Key Laboratory of Digestive Disease (CUHK)
State Key Laboratories
State Key Laboratory of Digestive Disease (CUHK)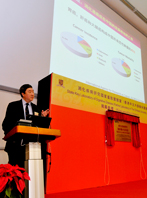 Approved by the Ministry of Science and Technology of the People's Republic of China, The Chinese University of Hong Kong (CUHK) established another new state key laboratory – the State Key Laboratory (SKL) of Digestive Disease (CUHK), partnered with the Fourth Military Medical University (FMMU) in July 1st 2013. It aims to promote research and improve the level of diagnosis and treatment of digestive diseases in Hong Kong and mainland China through the collaboration between the two institutions.
The Laboratory is housed in the CUHK Li Ka Shing Medical Sciences Building. CUHK and FMMU, both leaders in digestive disease research, have established a long collaborative relationship, laying a solid foundation for the Laboratory. With the vision to bring research development to new heights and benefit mankind, the Laboratory will carry out basic, translational and clinical research on the gastrointestinal cancer, peptic ulcer bleeding, chronic liver disease and inflammatory bowel disease.
The investigators of the SKL are a multidisciplinary group formed by professionals from a range of academic fields in gastroenterology, surgery, pathology, interventional radiology, molecular and cellular biology, and oncology, which promoting cross-fertilization of ideas and enhancing synergism between different specialties.
The State Key Laboratory of Digestive Disease will strengthen ties between scholars of Hong Kong and mainland China toward long and sustainable collaboration and help bring the research development to new heights of excellence, as well as further strengthen China's position in terms of digestive disease research.
Related Websites
Contact